Diabetes in Public Housing

According to the most recent CDC's National Diabetes Statistics report, more than 100 million U.S. adults have diabetes or prediabetes. As of 2015, more than 9 percent of the population — 30.3 million — had diabetes. Another 84.1 million had prediabetes. Rates of diagnosed diabetes were higher among American Indians/Alaska Natives (15.1 percent), non-Hispanic blacks (12.7 percent), and Hispanics (12.1 percent), compared to Asians (8.0 percent) and non-Hispanic whites (7.4 percent). The report also highlights that awareness levels remain too low. The research found that nearly 1 in 4 adults with diabetes didn't even know they had the disease, and less than 12 percent with prediabetes knew they had that condition. By focusing on prevention, it may be possible to avoid the numerous complications of diabetes and obesity, which include not only eye, kidney and nerve problems but also dental disease, dementia and depression.
A 2017 HUD's report shows that adults who receive assistance from HUD have higher rates of diabetes (17.6%) when compared to the total U.S. population (9.4 %)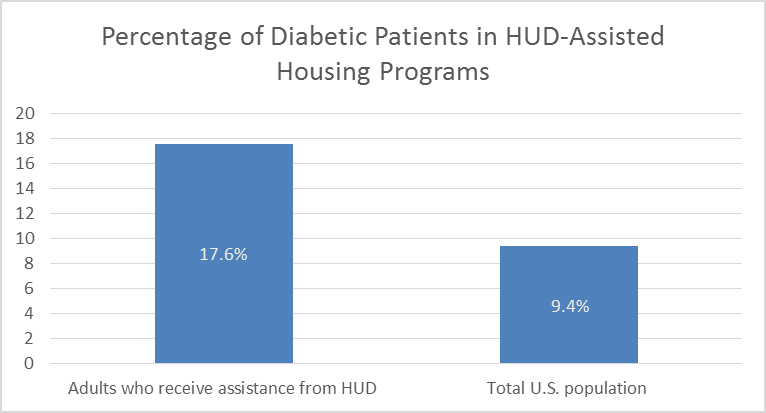 A recent analysis of PHPC data shows that percentage of patients with diabetes served by Public Housing Primary Care (PHPC) grantees is also growing. The number of patients with diabetes in public housing primary care has increased by 6% since 2012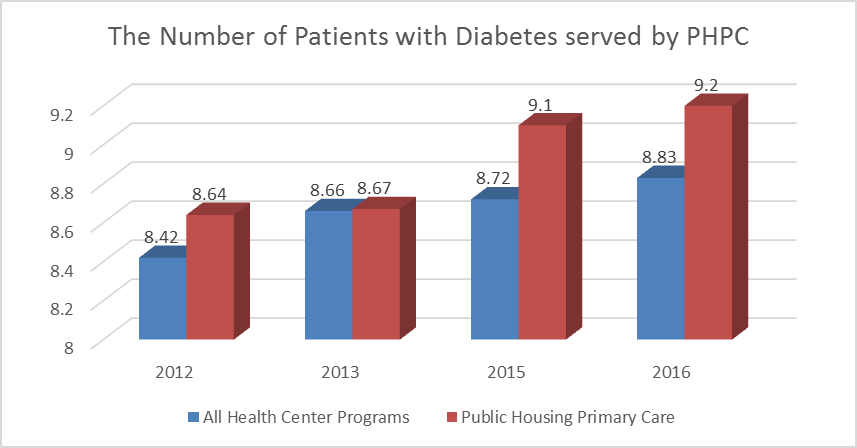 In 2016, according to the most recent UDS data, around 32% of patients served at PHPC site had uncontrolled diabetes (HbA1c>9). This figure, is almost two times higher than the percentage of diabetic patients with uncontrolled diabetes in the US population (18%).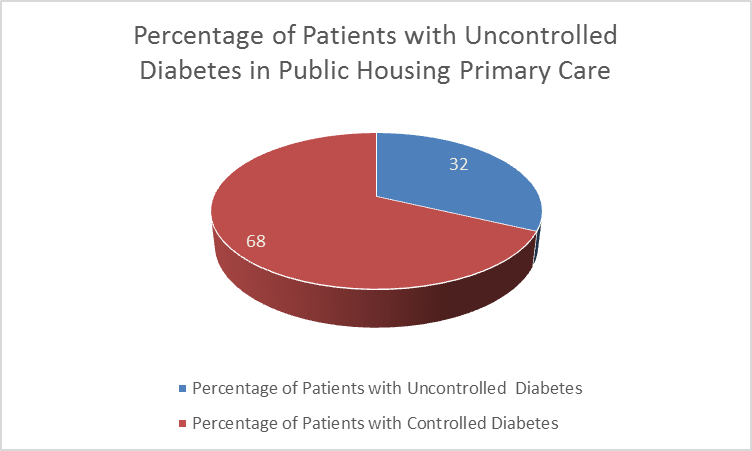 This section provides resources, stories and best practices for Health Center Programs. We would like to hear from you. If you have any diabetes story, case study or best practice to share, you can email it directly to jose.leon@namgt.com
Diabetes Prevention and Management
Did you know that 9% of adults in Yakima County have been diagnosed with Diabetes? Staff at Yakima Neighborhood Health Services works with their Diabetic patients to make positive choices that fit within their daily lives. November is National Diabetes Month and they would like to share the message that "You are the center of your Diabetes Care team". For video click here or watch below.
Dr. John Buse, MD, PhD, from the University of North Carolina, School of Medicine, shares how he cuts through the growing cluster of paperwork and prioritizes conversations and joint decision-making with his patients. For video click here or watch below.

Clinical Resources
Standards of Medical Care in Diabetes- 2017
Final Recommendation Statement- Abnormal Blood Glucose and Type 2 Diabetes Mellitus: Screening
Diabetes Mellitus: Screening and Diagnosis
Obesity in Adults: Screening and Management
Final Recommendation Statement- Obesity in Children and Adolescents: Screening
National Diabetes Prevention Program
Diabetes Medications for Adults with Type 2 Diabetes: An Update
Behavioral Programs for Type 2 Diabetes Mellitus: Current State of the Evidence
Behavioral Programs for Type 1 Diabetes Mellitus: Current State of the Evidence
Tips to Help You Stay Healthy with Diabetes
Fighting Diabetic Complications